Mile after mile, you've traveled so far. You were longing to be among nature and trees. You dreamed of discovering a welcoming forest—a place to breathe, to unwind and to holler in glee. But upon your arrival, what's the first thing you need? A menu, of course. And so it must be that with food alone, the Social Haus ensures your stay at the green o will be well worth the trip. The dining experience is a singular culinary journey. Each course is a surprise, and each meal is a revelation.
Located at the center of the resort, the Social Haus is the true heart of the green o, just a short walk from each of the Haus accommodations. Soaring windows open to the outdoors, allowing the mingling of cooking aromas with the fresh, pine-scented air. Details like Shou Sugi Ban wood, stained to match the surrounding pine trees, and artisan-designed custom lighting accentuate the feeling that you're enveloped in the forest. Inside, you'll encounter the inner circle bar, an intimate lounge, a dining area and an open kitchen. Take in the sights and smells as you watch chefs prepare exquisite meals for breakfast, lunch and dinner. 
"If food were art, I just worked my way through the Louvre, nine paintings at a time." —Pam LeBlanc Adventures
"I was surprised to find, buried deep in the woods outside of Missoula, a one-of-a-kind dinner as refined as any I've experienced." —Departures
"Items change night-to-night, from scallops and salmon to lamb and bison, but the presentations are uniformly Michelin-worthy."—Hemispheres
The chef's tasting menu—an elaborate multicourse meal—awaits each guest, every single night. More often than not, it's precisely eight plates. It's also Executive Chef Brandon Cunningham's way of offering not too much, but certainly not too little, while showcasing the range and versatility of his team. In fact, you could enjoy a week's worth of dinners and never see the same dish twice.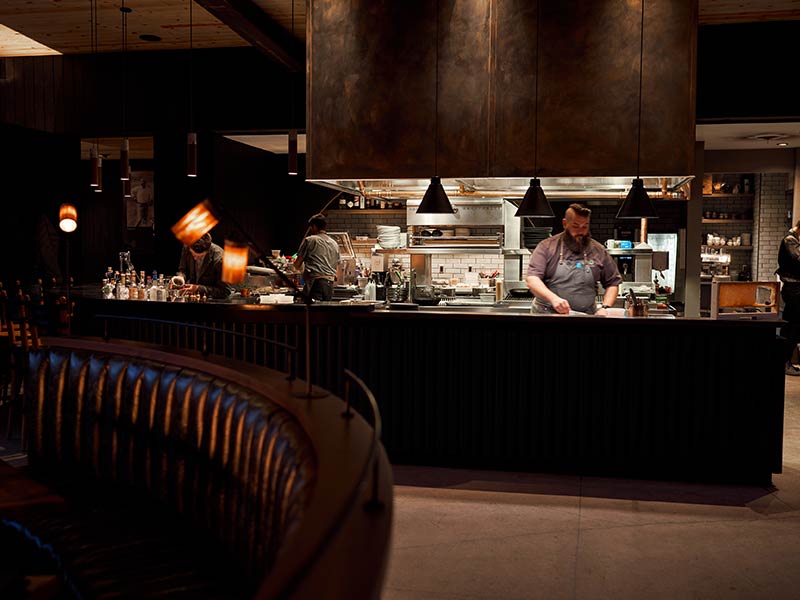 Discover your inner morning person.
Imaging starting your morning with the savory aroma of cube steak fried in buttermilk, fueling up for the day's adventures with golden brown potatoes covered in spicy romesco sauce or indulging your sweet tooth with an exquisite riff on the cereal you loved as a kid, embellished with pâte á choux and white chocolate ganache. At the Social Haus, our passionate staff never underestimates the importance of a good breakfast and settles for nothing less than an exceptional one. Getting out of bed has never been so easy.
A forest's worth of flavor
Remember climbing down from your childhood tree house to hurry inside for lunch? At the green o, your accommodations may be more sophisticated, but don't be surprised to find yourself running to your midday meal. Come in from the wild and recharge with flavors drawn from a variety of childhood nostalgia. Bold, unexpected ingredients and expertly-honed techniques will make timetested favorites feel new again. Because here, tacos, soups, salads and sandwiches are more than lunchtime specials— they're a celebration of nature's bounty.
Nightly performances you'll never forget
Nightly performances you'll never forget An intricate honeycomb dripping fresh gold. A sous chef chopping up delicate morels. The bartender balancing a sweet, juicy blackberry on the rim of a glass. There's an artistry and a bustle that goes on here all day, but stay more than a minute and you'll feel relaxed and at home. At dinner, each dish is served by the chef who created it. After all, you'll want to know what inspired that extraordinary corn and blueberry dish by Chef Vincent Donatelli.
Millions of years in the making. For the beef, just 30 seconds on each side.
Embracing the importance of location and sourcing, the Social Haus takes New American Experiential Dining further and farther than perhaps anyone. And the Blackfoot River Valley, where the green o resides, is rich with possibility. Cutting through a stunning swath of western Montana, the landscape is dotted with Angus cattle, bison and elk. Bounty from the earth includes wheat, sage, huckleberries and morels. Sear a delicate slice of Wagyu beef on a rock worn smooth by time. Cleanse your palate with French lemon sorrel shaved ice. Fresh, local ingredients abound.
It's okay to play with your food.
From chips and dip to waffles or fish sticks, the foods we dined on during childhood forever hold a place in our hearts. But just imagine what memories taste like as haute cuisine. At the Social Haus, guests get the chance to discover comfort foods all over again, as Cunningham elevates these favorites with unconventional ingredients and masterful techniques. You can become a kid again without giving up the finer things in life.
Of this place. Out of this world. Somehow, it works.
Homemade. Fresh. Locally sourced. Direct from the producers. Executive Chef Brandon Cunningham goes out of his way to stay close to home. Each ingredient is imbued with a sense of place. Pizza is topped with mozzarella from Lifeline Creamery in nearby Victor, Montana, and the lager you wash it down with is brewed at Bayern Brewing in downtown Missoula. If the chefs at the Social Haus didn't create it themselves, they're on a first-name basis with the artisans who did.
Executive Chef Brandon Cunningham
Executive Chef Brandon Cunningham's CV is filled with the names of acclaimed establishments. It took years to become the chef he is today, and it required exacting dedication to his craft plus a motivation to improve each day to the next. He credits the support of his hard-working staff, as well as his own internal drive. It's a serious pursuit, but at the same time Cunningham takes particular delight when his guests crack a smile.
For dinner reservations only, please submit an inquiry form by clicking the button below. We are unfortunately unable to host parties larger than 4. Dinner reservations require at least 24 hours notice prior to the requested date and time and no more than 30 days in advance. All guests must be 21 years or older.